Powering the best product teams in the world
Capture and organize feedback in one place
Stop guessing what to build next. Build a product that your customers love by easily staying on top of user feedback.
Capture feedback through 👇
Public feedback board
Let customers submit feedback, vote on features and view roadmap/chanagelog from a public feedback board.
Embeddable widget
Embed the feedback board, roadmap or changelog on your own website through a widget to offer a seamless experience.
Feature validator
Validate features by embedding our popup. Let users subscribe to updates and vote on importance.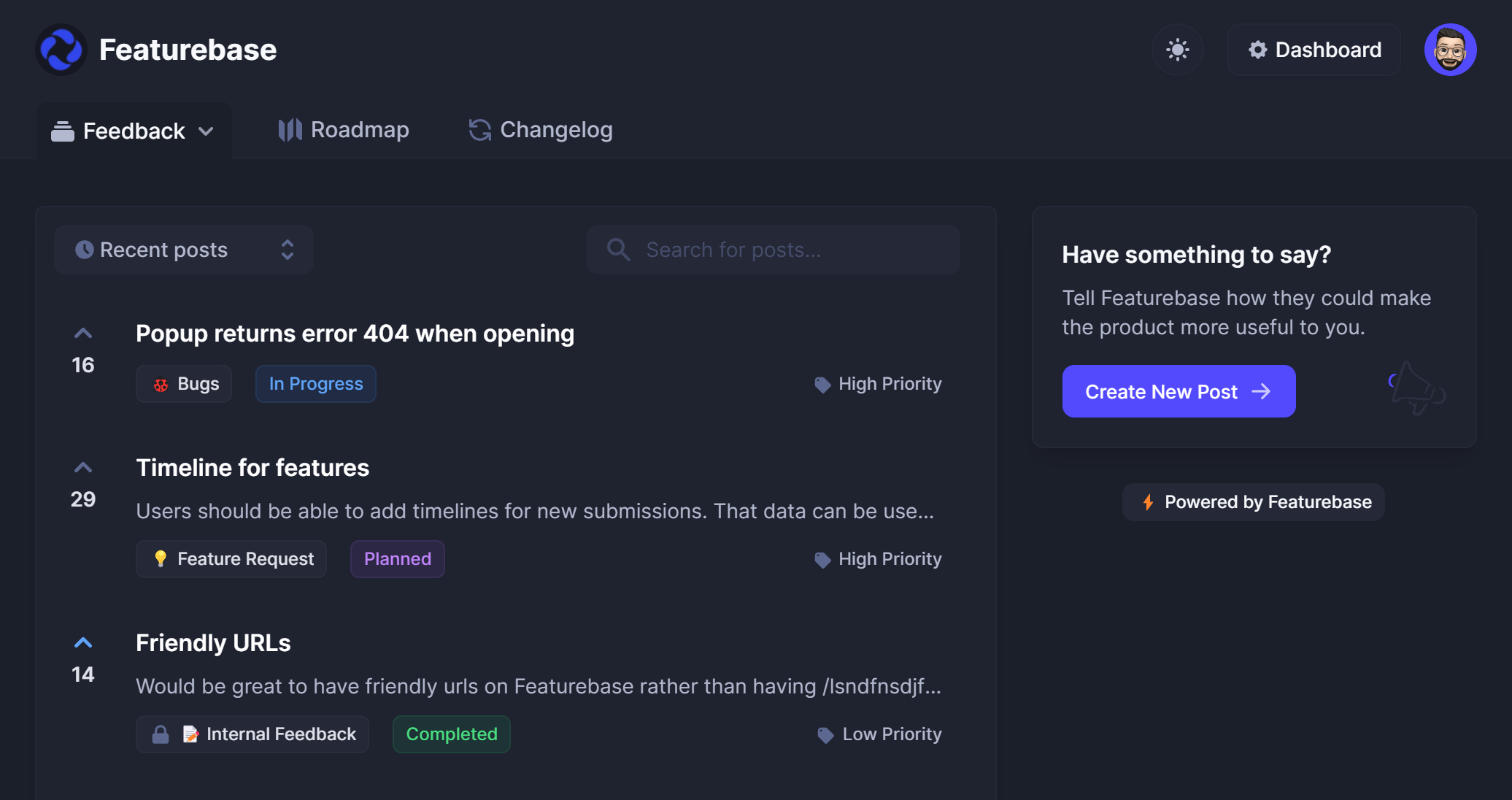 Custom domains
Let users access your feedback portal from your own domain.
Dark & Light mode
Everyone can choose the theme that suits their eyes the best.
Feature voting
Prioritize product development, see what your users want.
User segmentation
Only give access to some user roles in your app.
Single Sign-on (SSO)
Automatically authenticate users from your own app.
Suggest similar posts
Lets your users know when a similar post already exists.
Post moderation
Enable moderation to approve posts before they are made public.
Custom statuses and boards
Organize feedback in the way that you need.
Publish your roadmap & Announce new updates
Share your product roadmap with your customers and notify everyone of new changed to your app.
Publish your product roadmap
Easily show your customers everything that you're working on. Build your product roadmap based on your user feedback.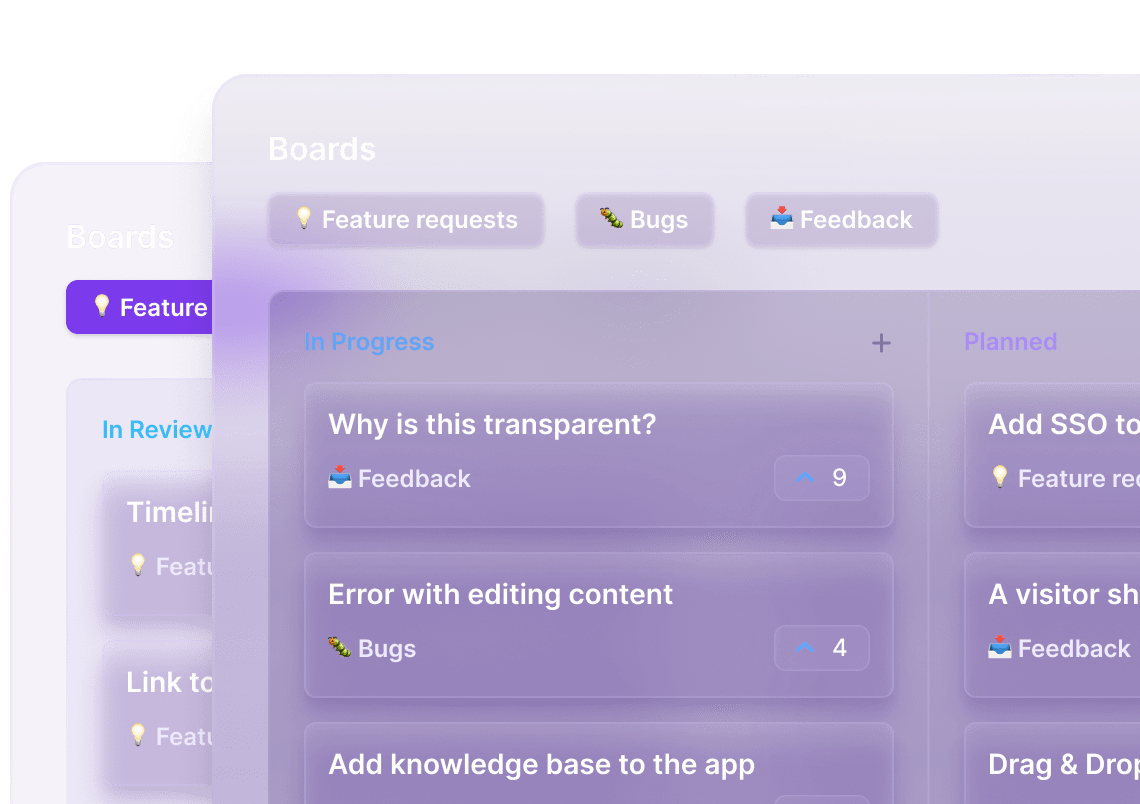 Create your changelog
Keep your users up to date with any new changes you make. Release updates in a powerful text editor & embed it in your app.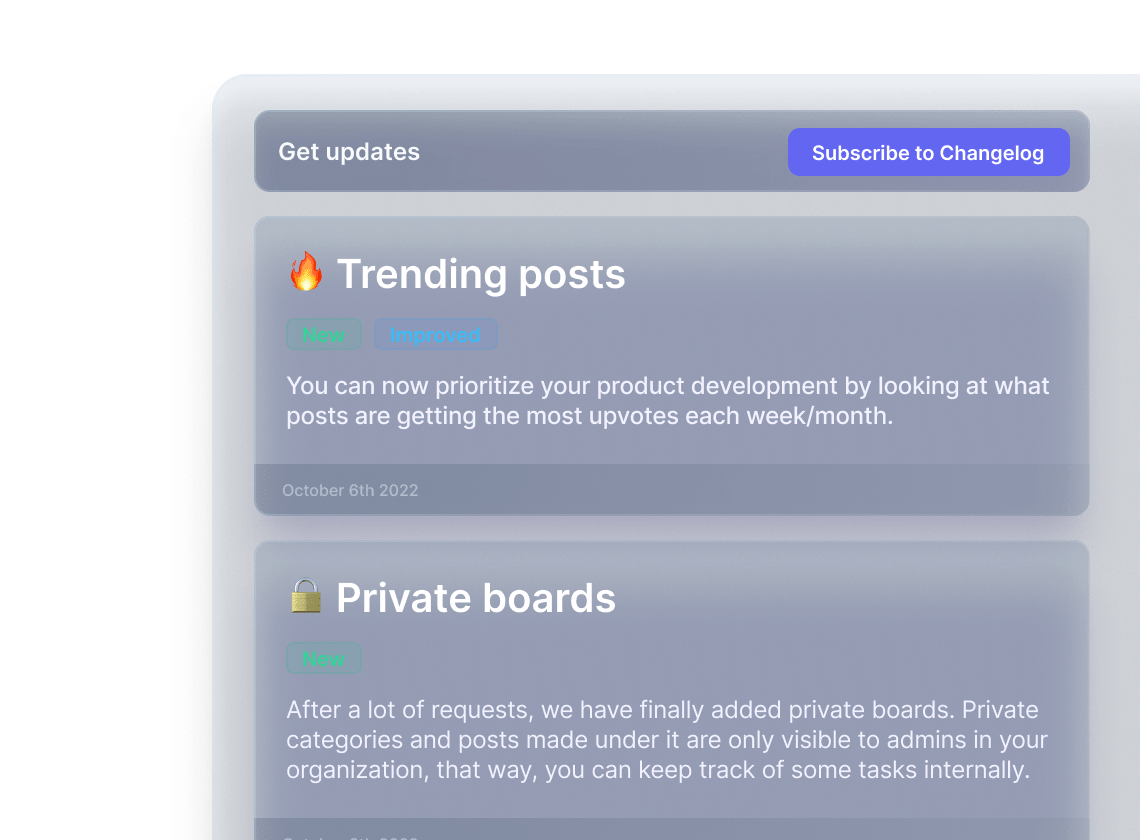 "Featurebase has been an invaluable tool to help me gather feedback directly from my users. I love the super simple UI of both the public board and also the admin dashboard. I can't get over how easy it is to get up and running and the customer service can't be beaten!"
Perry Raskin
Founder of BuyerDash
"It's awesome to be able to see such an intuitive application that suits our needs perfectly. We started using Featurebase for Tokun because we wanted to have a platform that can easily show to our customers what we're working on, as well as give them the freedom to suggest features and vote on it. "
Ray Chiao
Founder/Project Lead at Tokun
"Featurebase is an extremely useful app that allows us to gather and keep track of suggestions from our game's community in an organized fashion. It has everything we need, and they've also been quick to respond and implement our suggestions."
Nikolas Mueller
Tech lead at Curious Panda Games
✨ New integrations every week
Integrates with your favorite tools
Featurebase connects with more than 500 apps through Zapier. Get automated notifications in Slack or add all new feedback to your Trello board - the possibilities are endless.

Frequently asked questions
Frequently asked questions
If you can't find what you are looking for, you can always contact us in the live chat or send us an email with your enquiry.
How can I share it with users?

You can share the link to your Featurebase feedback portal, or, you can embed the roadmap and/or feedback boards in your own site or application to make it even more seamless.

Can I use it both internally and publicly?

Yes, you have 3 different options with Featurebase: 1. Create a completely public board. 2. Create a completely private feedback board. 3. Use private categories to only manage some tasks internally with a public board.

Can I embed feedback boards on my website?

Yes, you can. When you create a feedback board, you will find an option to generate an embed code for that board, which you can use to embed on your website.

Do users have to sign-up to give feedback?

It is your choice. By default, users will have to signup for Featurebase to submit feature requests. But if you have Single Sign-On integrated, users can interact with Featurebase without having to sign-up.

How do you handle data?

Our servers are based in Germany (Europe) under strict GDPR rules. Your data is completely safe as we do not use any third party integrations (except for our payment processes, we use Stripe for that).

Can I import data from a previous tool?

Migrating to Featurebase is super easy. Let us know in the live chat that you are looking to import data, we will do it for you for no extra cost.

What customization options are available?

You can customize the brand color, feedback board texts, and so much more on Featurebase. You can also use Zapier to build our completely custom interfaces for your product on Featurebase.

Can I whitelabel Featurebase?

Yes, with the Enterprise plans you can remove all branding from your Featurebase feedback board and notification emails. Contact us for more information.
The simple feedback tool with feature voting for your customer feedback. Built-in the 🇪🇺.
© 2023 Featurebase. All rights reserved.