Featurebase makes feedback collection and management fun
Explore hundreds of features to help you capture, prioritize, and manage feedback while seamlessly keeping everyone in the loop about the latest changes.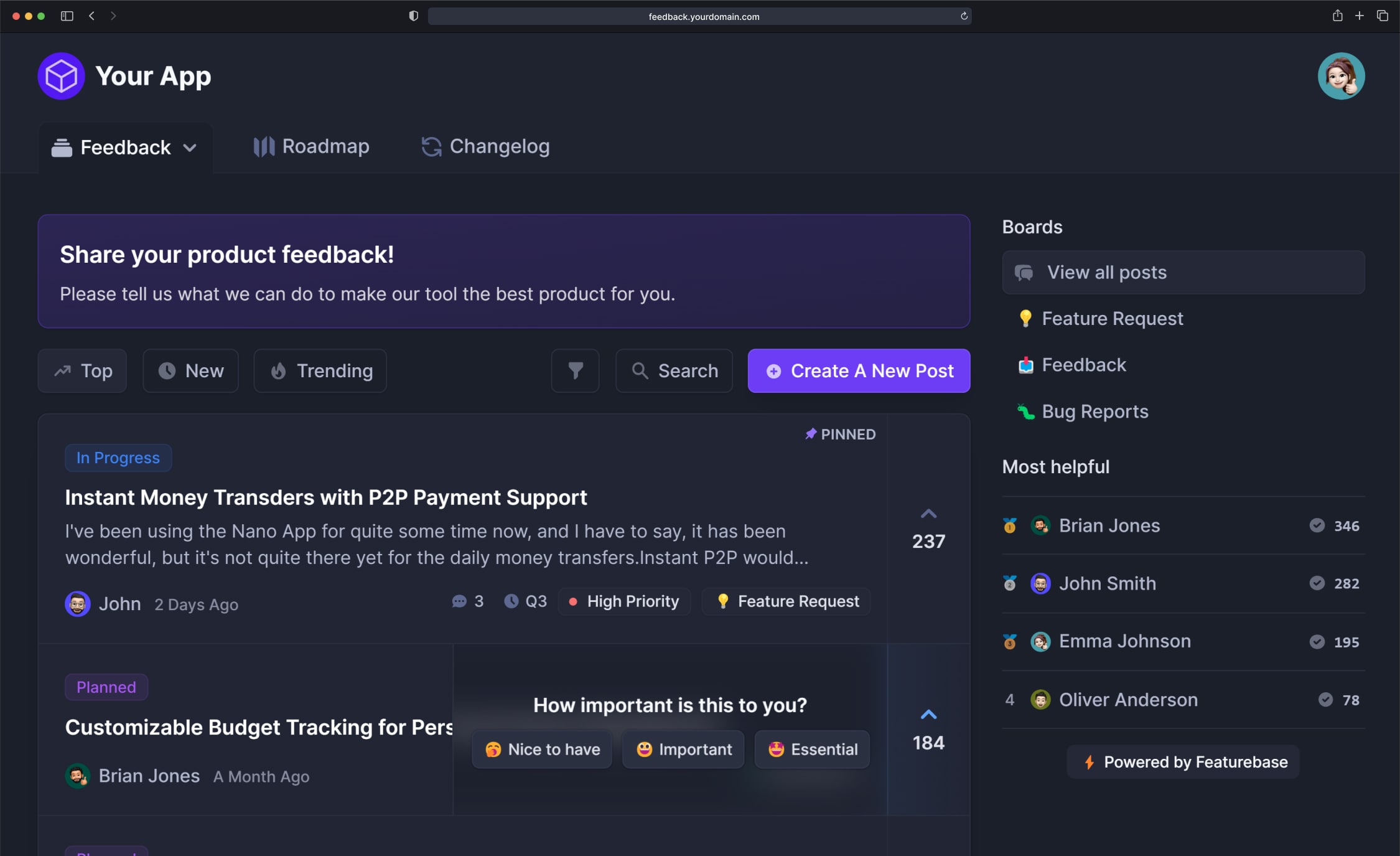 Step 1
Capture and discuss feedback & feature requests with your users
Create your public feedback portal website or embed widgets in your app for a seamless experience.
Widgets

Add embeddable widgets to your app to capture feedback from your users.
Follow-up questions

Use follow-up questions to get more context on feedback and feature requests.
Comment threads

Have discussions with your users to clarify and understand their needs.
Identify Users

Easily sync your user data to Featurebase to tie feedback to your existing users.
Leaderboards

Gamify feedback collection and highlight your most helpful users.
Private boards

Manage some feedback privately and only share it with your team.
Custom domain & branding

Serve the feedback portal on your own domain and customize it to match your brand.
SSO & auto-authentication

Authenticate your users for a better experience with our Single Sign-On or SDK setup.
Vote on behalf of users

Vote on behalf of your users to subscribe them to updates and keep them in the loop.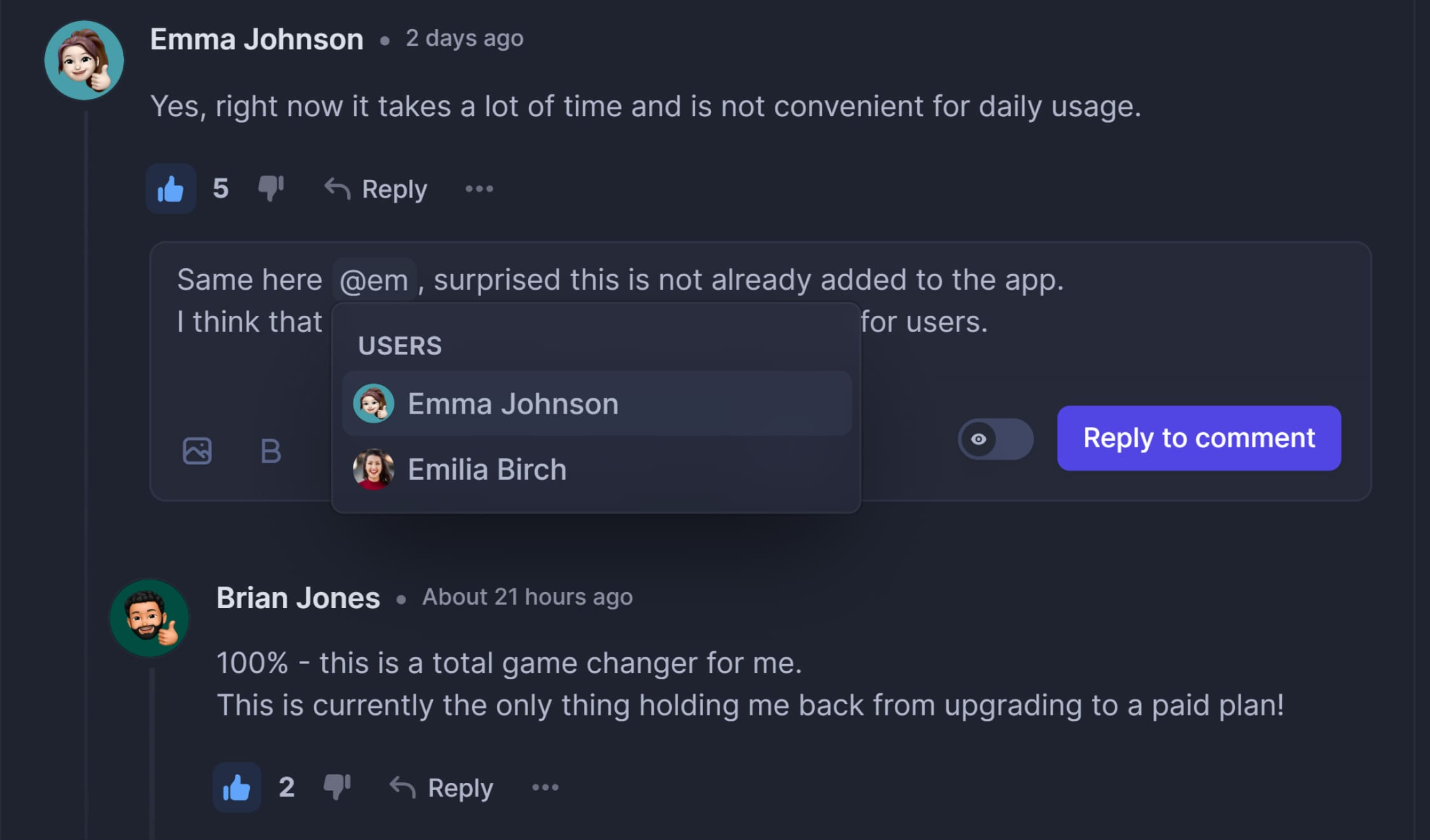 Step 2
Gather insights from the feedback
Prioritize feedback & feature requests with voting, segment feedback, assess importance, and track trending topics to find out what your users need.
Feature voting

Prioritize feedback & feature requests with upvoting and downvoting.
User segmentation

Segment feedback by custom groups to find out what the important customers need.
Measure urgency & importance

Follow-up questions measure urgency, usage frequency & importance of requested features.
Sort by monetary value

Sort posts by the amount of revenue each feature has.
Boards & tags

Organize feedback into boards and provide more context with tags.
Trending topics

Filter feedback by trending topics to find out what your users need.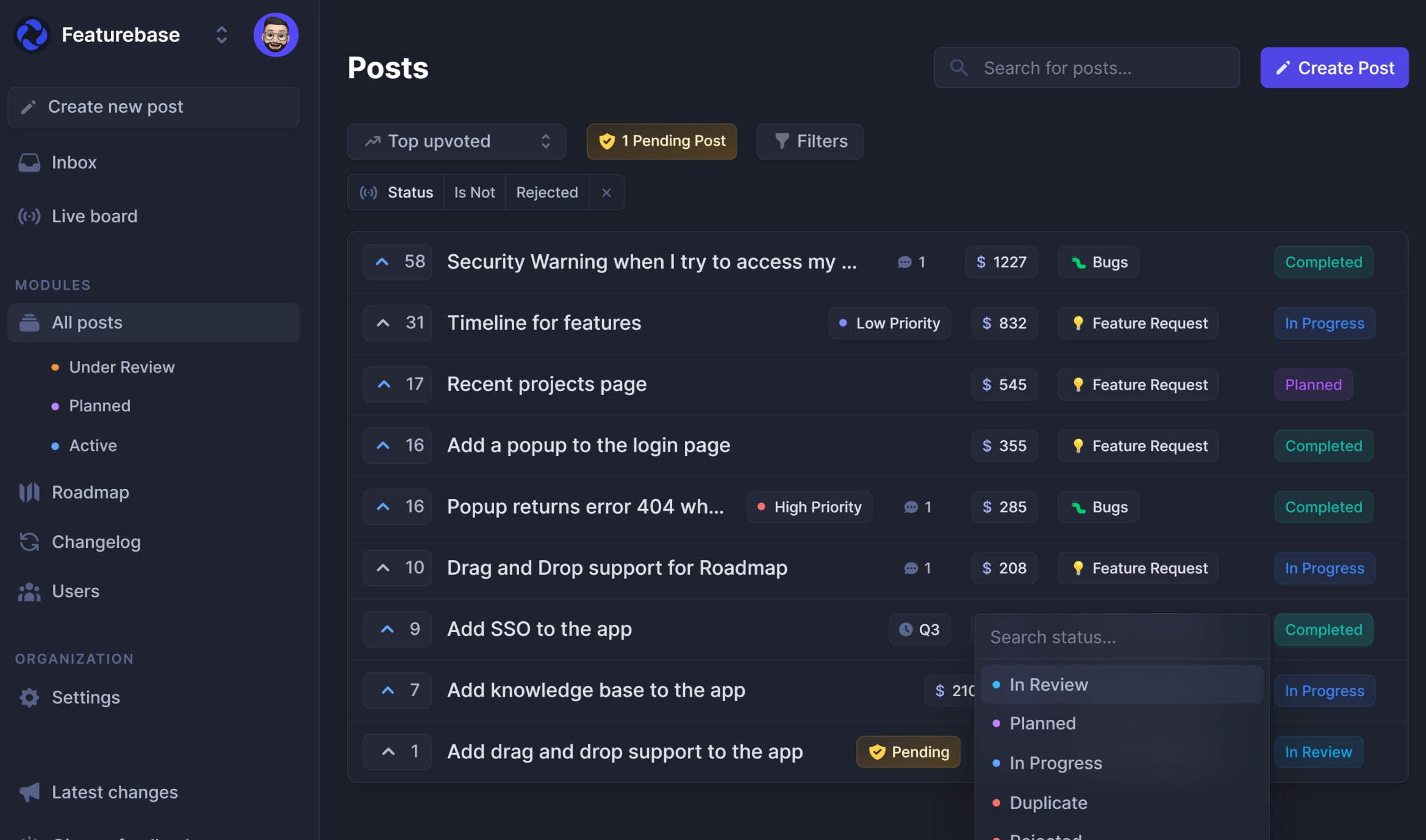 Step 3
Manage & prioritize feedback
Our Dashboard serves as a central hub for analyzing, managing feedback, and keeping your users informed about the progress of their requested features.
Status update emails

When you update the status of a post, your users will be automatically notified via email.
Post moderation

Turn on post moderation to approve or reject posts before they are visible to others.
Mentioning

Use the @ symbol to mention users, posts, or changelogs.
Date estimates

Add ETA's to inform your users about when a feature will be released.
Publish your public roadmap

Showcase your public roadmap to keep your users in the loop.
Merge similar posts

Merge posts to avoid duplicate feedback and feature requests.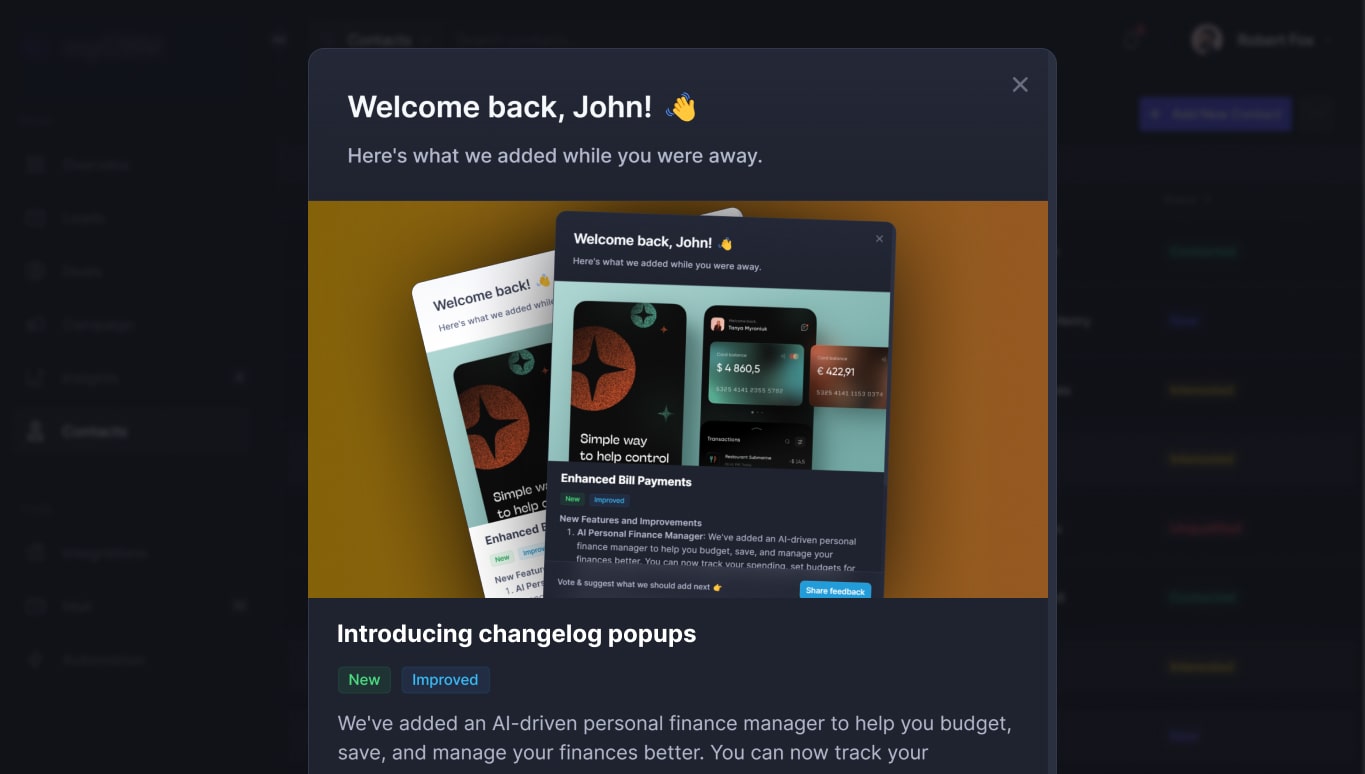 Step 4
Keep your users up-to-date
Featurebase simplifies communication on product and feature updates, making sure users are always kept in the loop about new changes.
In-app popups

Show in-app popups to your users when you publish a new changelog.
Powerful text editor

Use our feature-rich text editor to create beautiful changelogs.
Email notifications

Send email notifications when you publish a new changelog.
Widgets

Add a lightweight changelog widget to showcase your latest updates.
Scheduling

Schedule posts to be published at your chosen specific time.
Segmentation

Only publish changes to specific groups of users.
Featurebase
The simple feedback tool with feature voting for your customer feedback. Built-in the 🇪🇺.
© 2023 Featurebase. All rights reserved.