An affordable & even more powerful alternative to Canny.io
Featurebase is the affordable and feature-packed Canny alternative you've been looking for to collect feedback and communicate updates with your customers.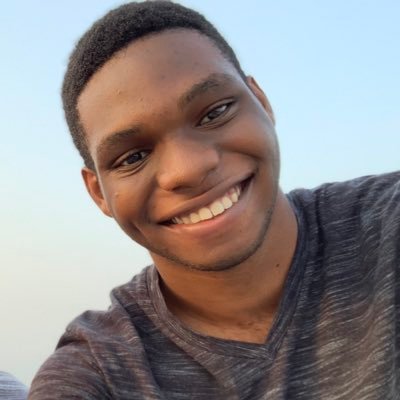 "We moved from Canny to Featurebase, and it's been one of our best decisions this year. We're getting so much more feedback from our users & our customers actually see our updates thanks to their popup changelog widget."
- Wilson, Founder of Senja.io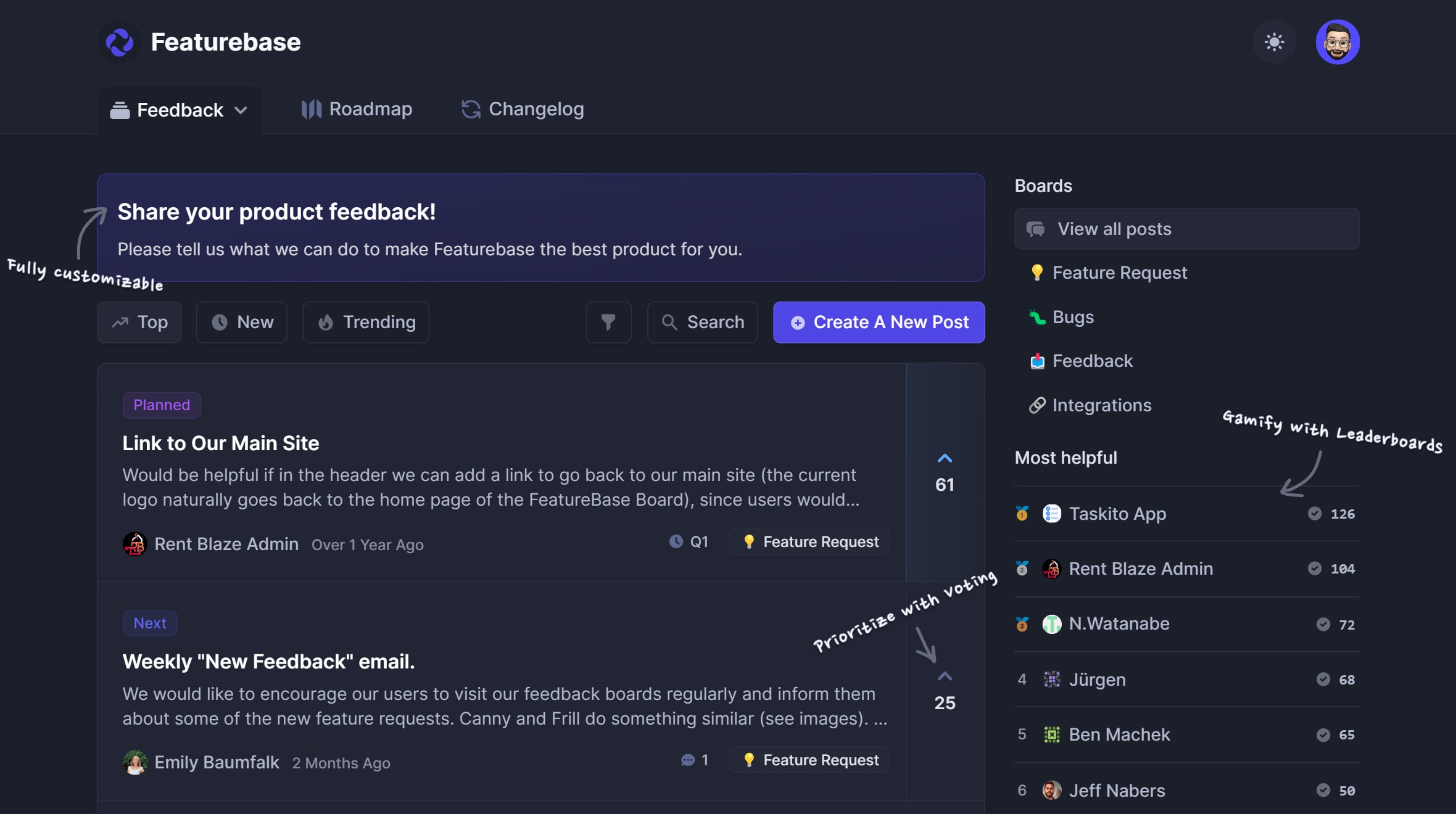 Companies of all sizes Featurebase
All Canny's paid features for 8X cheaper
Canny has made it clear that they are moving upmarket and their paid plans now start at $400/mo. Featurebase is an 8x cheaper alternative that offers all the paid features and an even better experience for just $49/mo.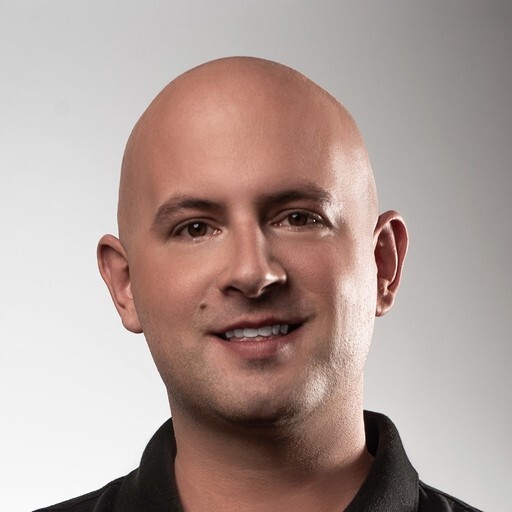 "We moved over from Canny due to price and haven't looked back. Our team agrees that it's *much* better than Canny."
- Robert Durrette, Founder of Ridgeline Agency
Private boards
Manage some internal ideas (boards) privately within your organization
Custom domains
Serve your feedback portal from your own domain
Auth with SSO & SDK
Automatically authenticate users with data from your own app
User segmentation
Divide your users into segments to restrict or allow access to specific topics
Access to multiple integrations
Get access to integrations with Intercom, Zapier, Discord, Segment, etc...
Post moderation
You will have to approve all posts before they are publically visible
Custom statuses
Create custom statuses to further organize your ideas and keep track of their progress
100+ other features
Custom domains, email white-labeling, priority support for all plans, API, vote on behalf, etc...
A feedback portal that's engaging
We've turned the bland-looking feedback boards into fun and gamified communities where users can engage with each other and feel like their voice is heard - resulting in much more feedback for your team.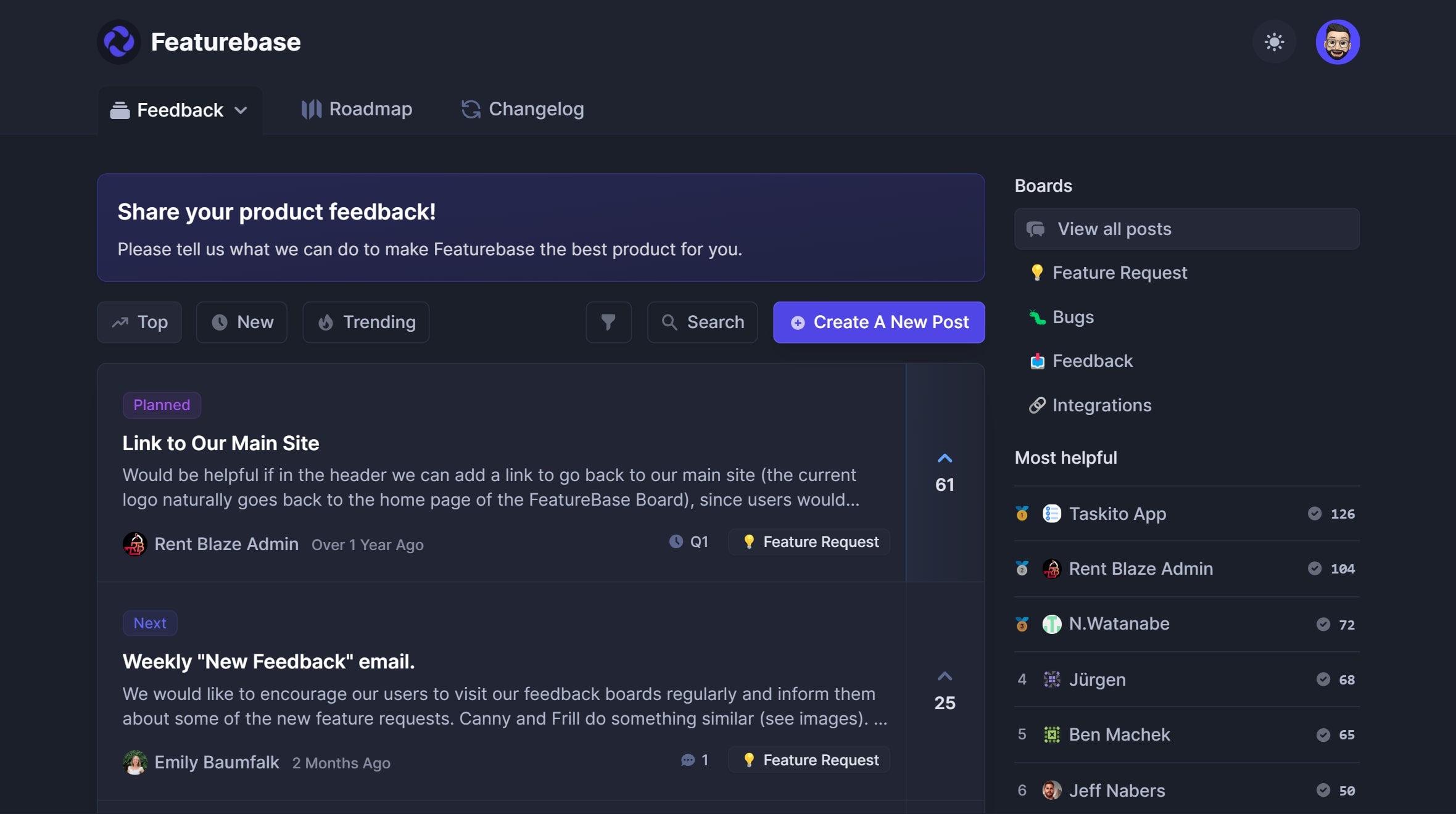 Get deeper insights with follow-up questions
Measure feature importance and urgency with follow-up questions.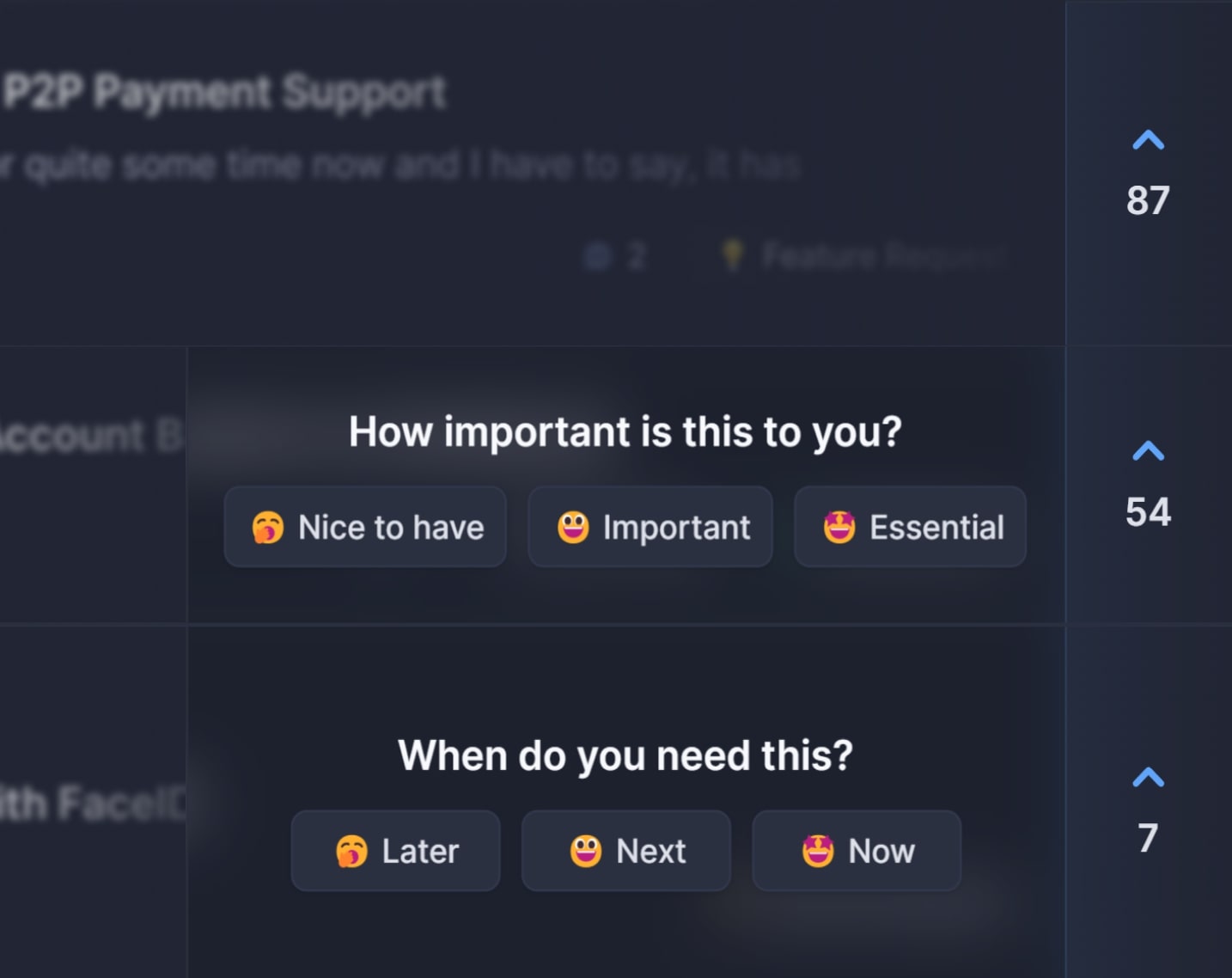 A widget for frictionless feedback collection
Embed a light-weight widget on your website to capture feedback & bug reports.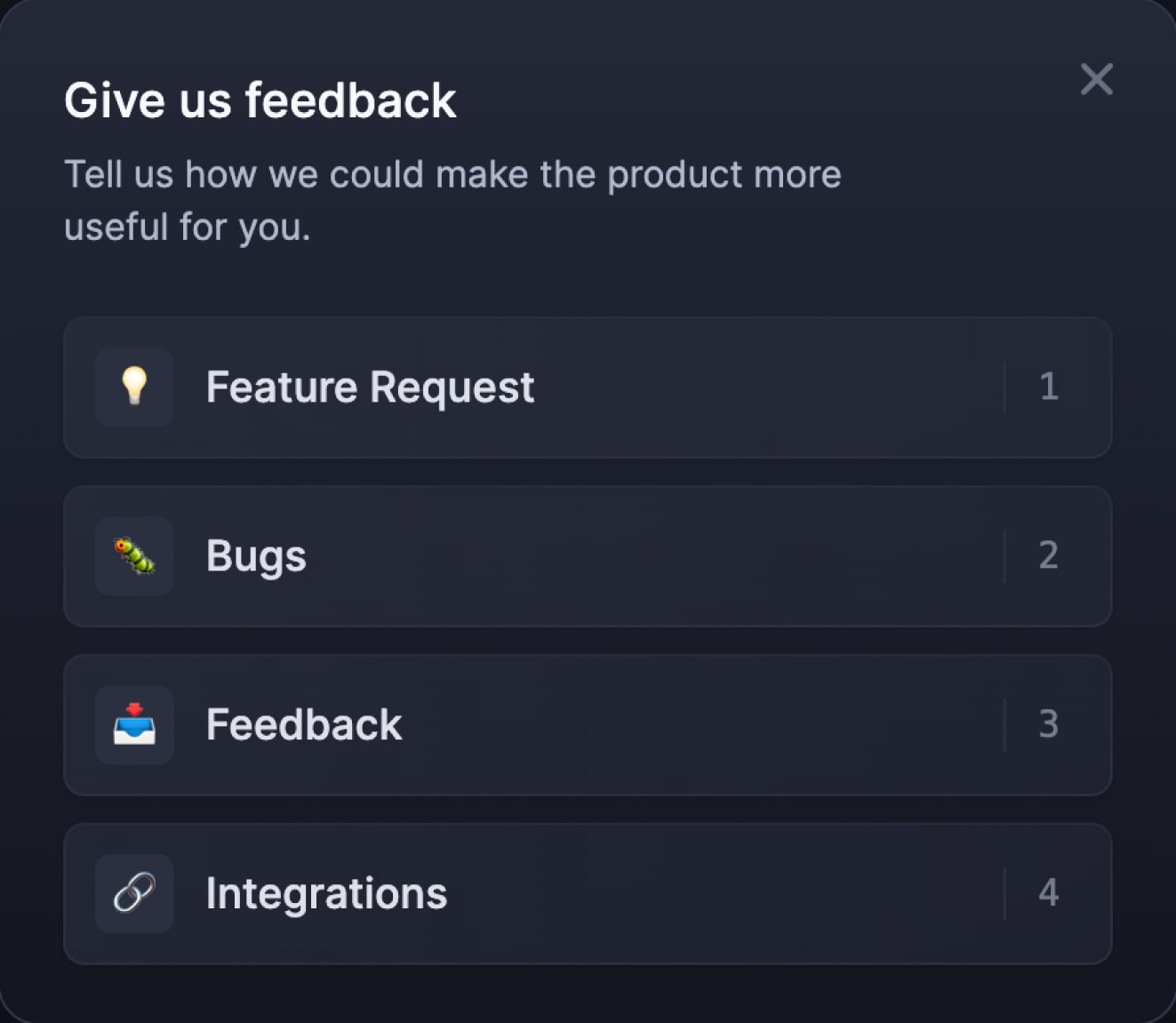 Leaderboards to gamify feedback collection
Featurebase's leaderboards help you gamify feedback collection and increase engagement.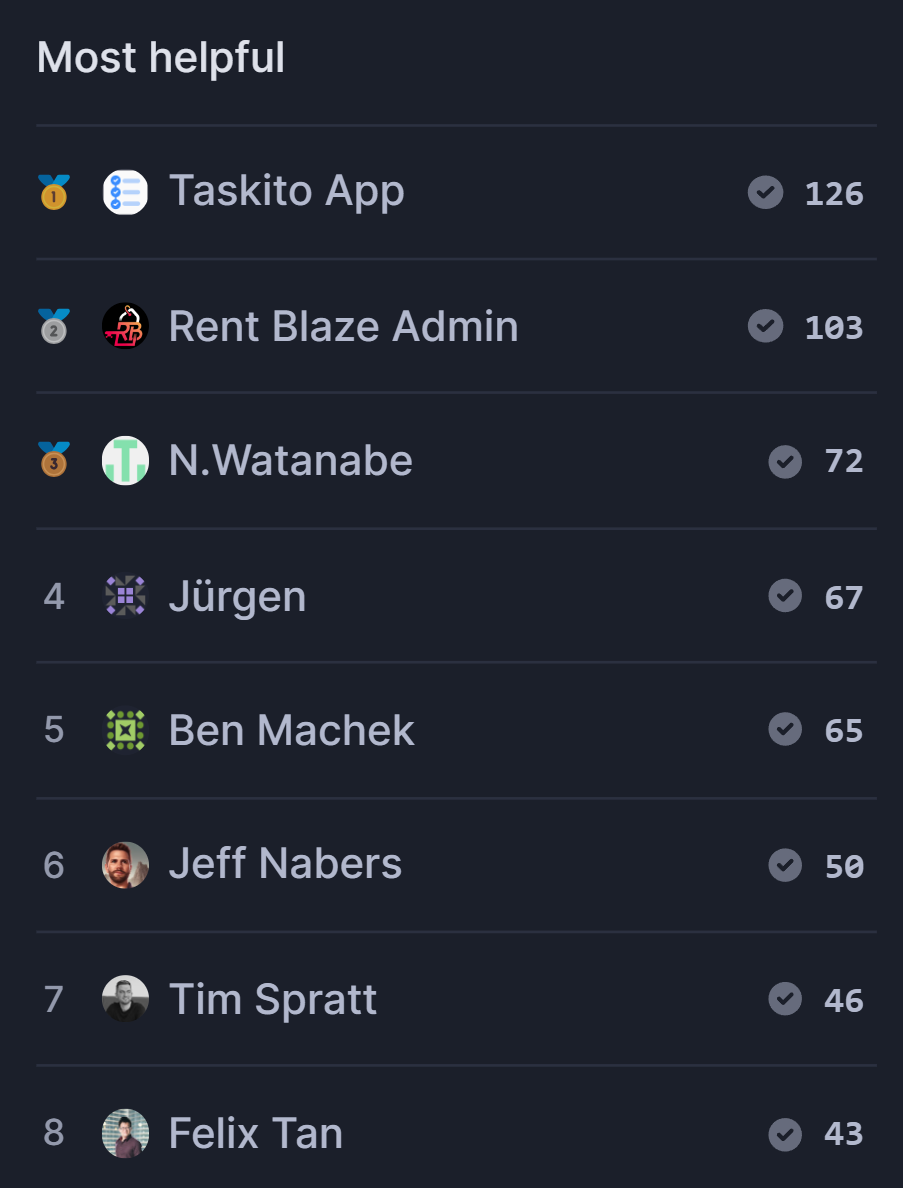 Announce updates with changelog popups
Our changelog module takes announcing updates to a new level with a powerful editor and beautiful widgets that you can embed on your website.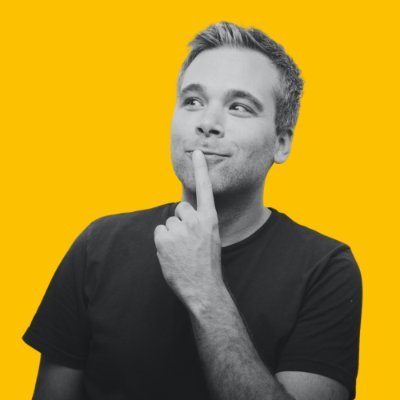 "We want to increase new-feature adoption in our SaaS, so we've switched from Canny to Featurebase. Now our change log generates a 'what's new' modal like this. Users logging in see what's been added since last time."
- Olly, Co-Founder of Senja.io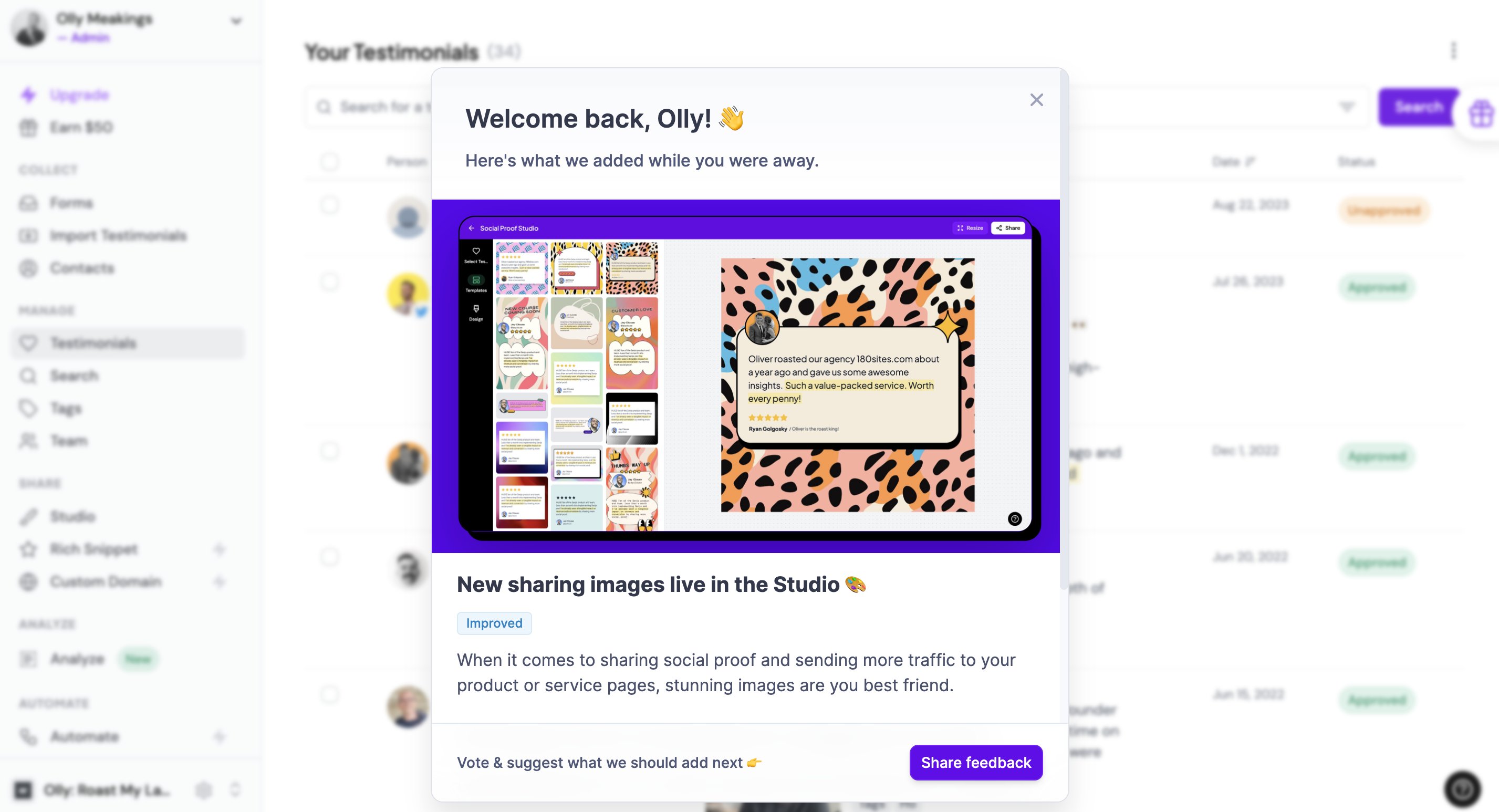 Public changelog page
Serve your changelog on a public page or create your own via our API.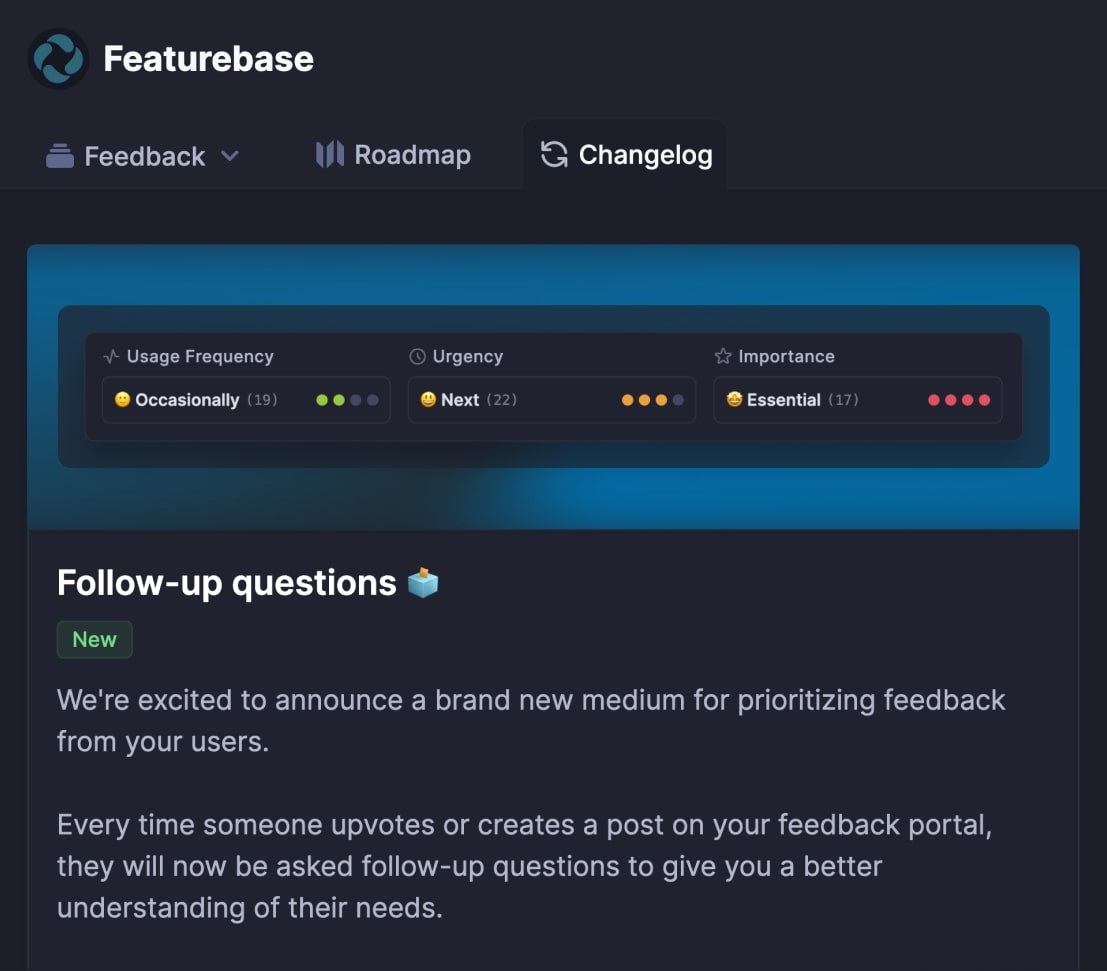 In-Product widget
Embed a light-weight widget in your app to seamlessly show users what's new.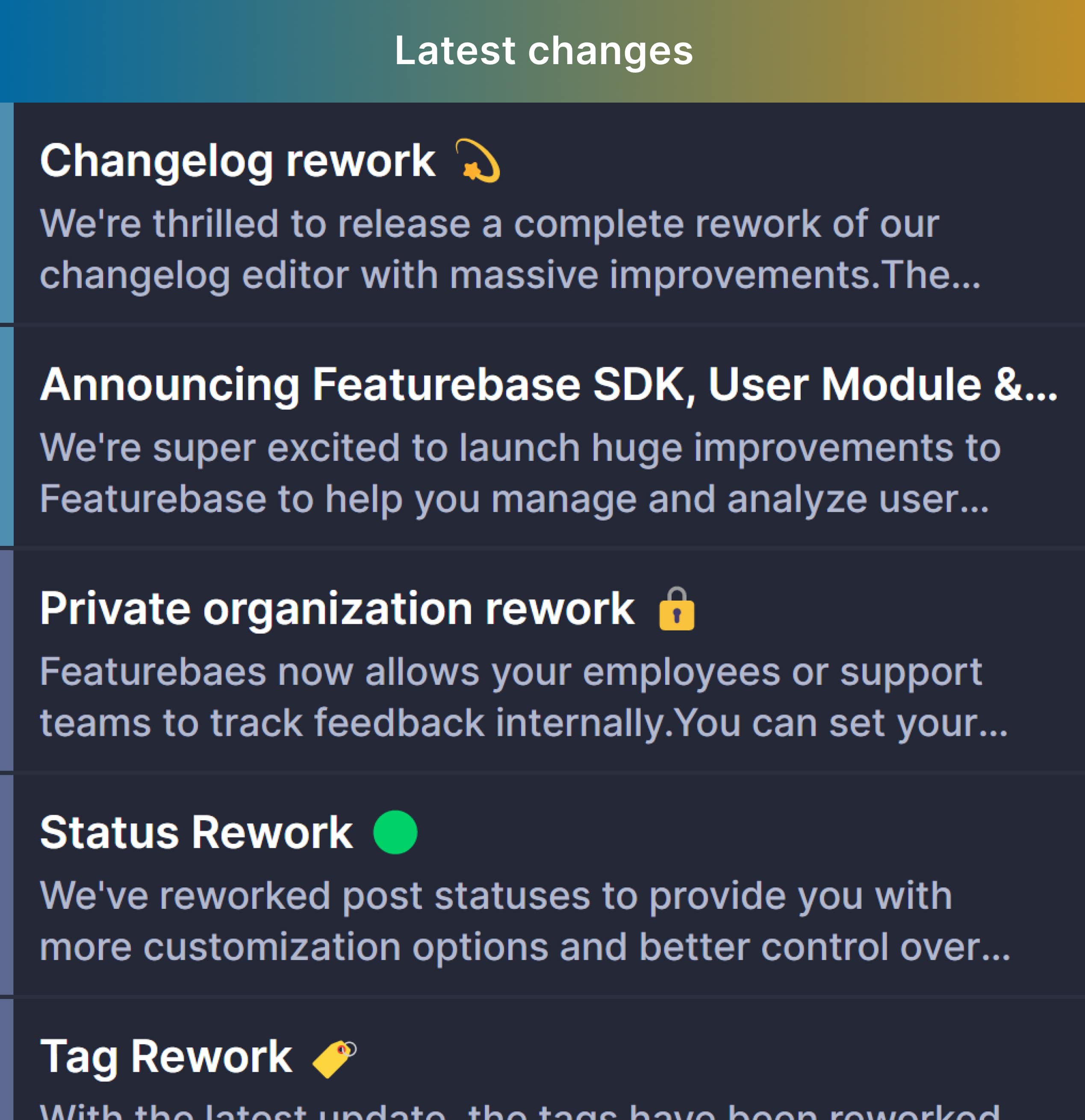 Email notifications
Subscribe your users to receive email notifications about new updates.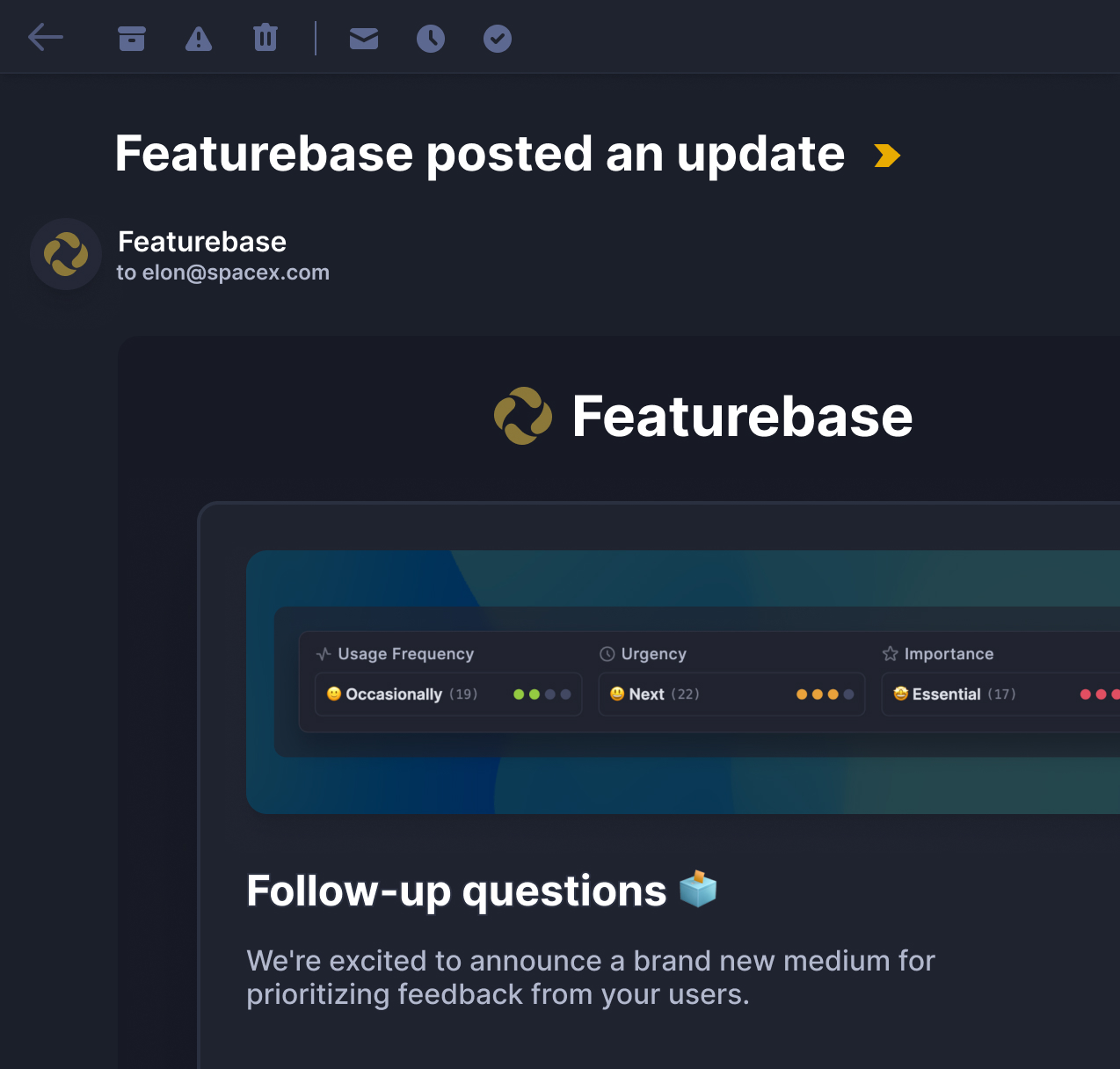 Couldn't be happier and wouldn't choose anything else (and I've looked at all of the competitors). Not just a nice & super responsive UI but a killer team that makes stuff happen in literally minutes vs. weeks or months.
Jascha Brinkmann
CTO at Sunvoy
Featurebase has been a game-changer. The ability to create dedicated customer portals for feedback and communication is fantastic. It's also been a breeze to communicate updates and manage feature requests. The team behind featurebase.app is incredibly responsive and helpful.
Daniel Amariei
Product Lead at Jobful
After testing multiple tools, Featurebase was the simplest, easiest, and most straightforward product feedback solution we found. We are using it for internal and external alignment. It has been super intuitive, and the team has been lightning-quick ⚡️ in feature requests!
John Tan
Product at Depict
Featurebase has been an invaluable tool to help me gather feedback directly from my users. I love the super simple UI of both the public board and also the admin dashboard. I can't get over how easy it is to get up and running and the customer service can't be beaten!
Perry Raskin
Founder of BuyerDash
It's awesome to be able to see such an intuitive application that suits our needs perfectly. We started using Featurebase for Tokun because we wanted to have a platform that can easily show to our customers what we're working on, as well as give them the freedom to suggest features and vote on it.
Ray Chiao
Founder/Project Lead at Tokun
Absolutely fantastic alternative to pricey and bloated competitors in the market. Support is absolutely on point. Great team working on this, hungry to make it work and drive the business forward.
Craig Sartor
CEO at GameGlass
Hosted securely in the EU
Featurebase is hosted in Germany and we take data privacy very seriously. Under any circumstance, we do not sell your data to third parties and do not use any tracking tools.
Need more options?
We recently wrote a detailed article about the Top 7 alternatives to Canny. If you feel that Featurebase is not the right fit for you, you can check out the other options from our recent blog post.
Featurebase
The simple feedback tool with feature voting for your customer feedback. Built-in the 🇪🇺.
© 2023 Featurebase. All rights reserved.