Scalable & intuitive dashboard
Rather than being stuck on a narrow feedback board, Featurebase has a dedicated admin view that allows you to easily manage and stay on top of large amounts of feedback.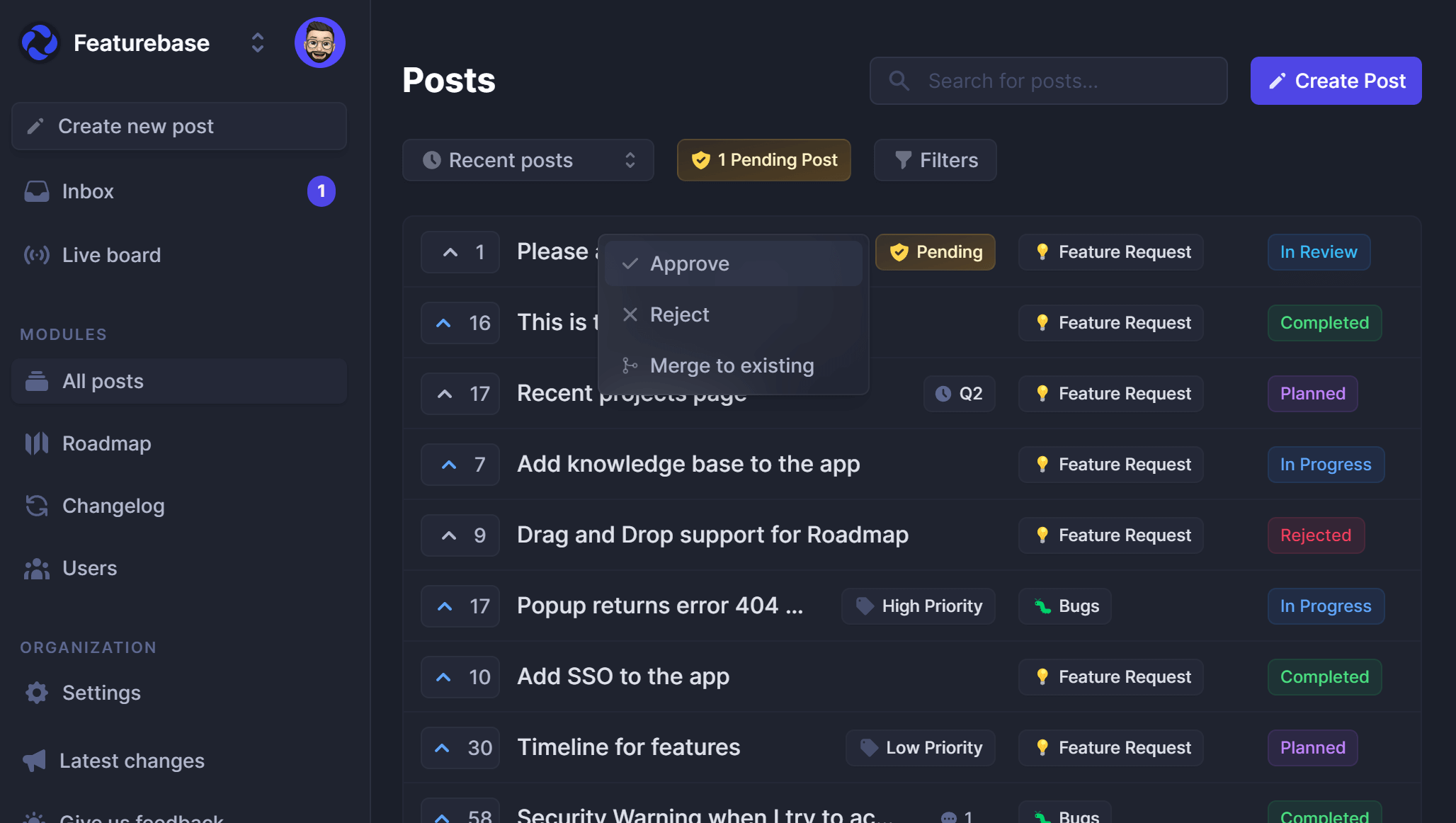 Includes product roadmap and changelog
Publish your product roadmap
Easily show your customers everything that you're working on. Build your product roadmap based on your user feedback.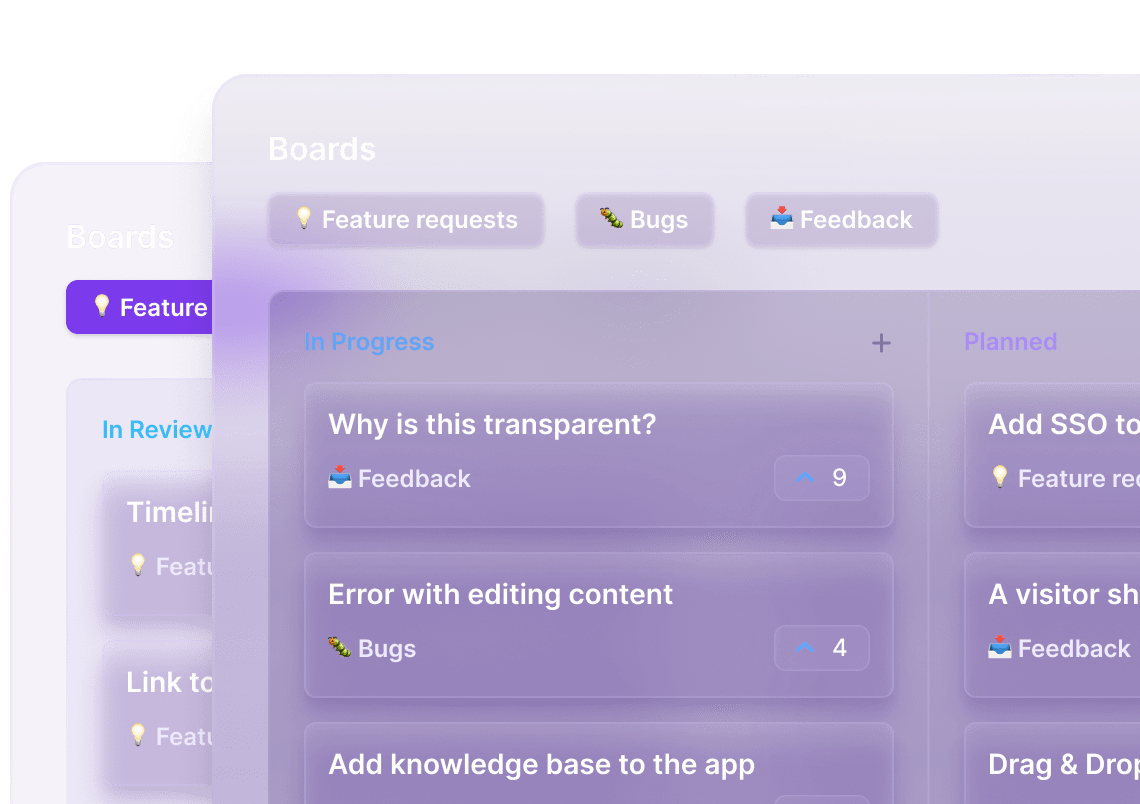 Create your changelog
Keep your users up to date with any new changes you make. Release updates in a powerful text editor & embed it in your app.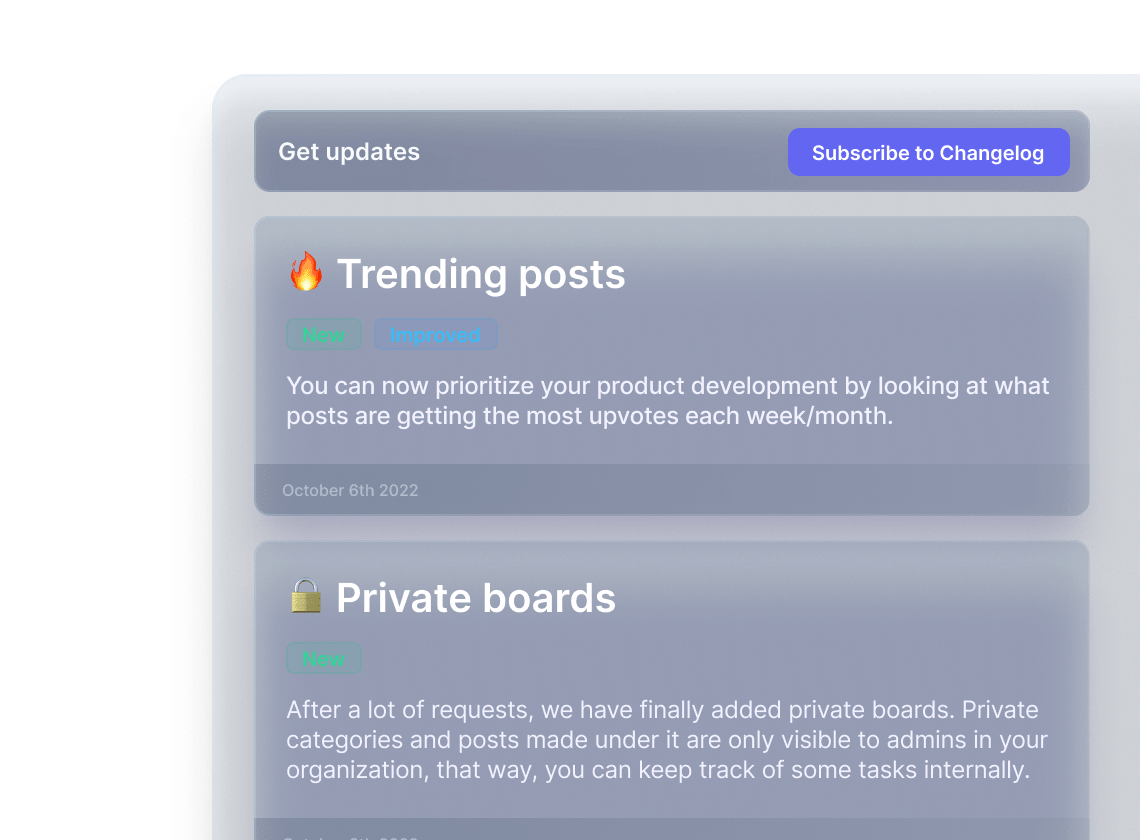 Designed for perfection
Is the design of Nolt not really your thing? We designed Featurebase from the ground up to be modern, easy to use, and highly customizable.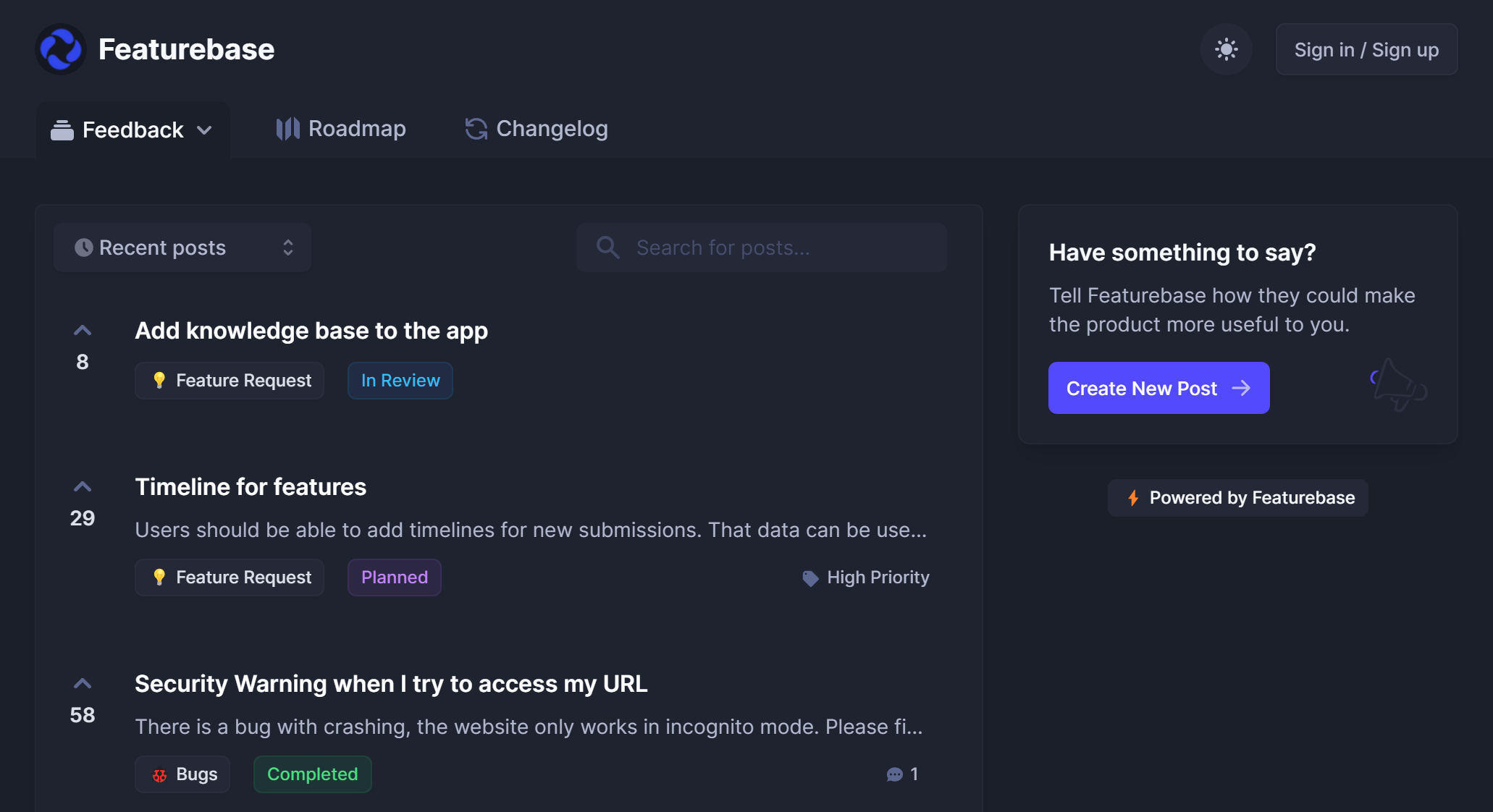 Affordable with tons of features
Featurebase and Nolt are similarlly priced and very affordable compared to other alternatives. However, Featurebase has a lot more useful features that you can use to validate your new feature ideas and build a better product.
Private boards
Manage some internal ideas (boards) privately within your organization
No sign-up posting, commenting & voting
Let users upvote, comment, post, etc... without signing in
Auth with SSO
Automatically authenticate users with data from your own app
User segmentation
Divide your users into segments to restrict or allow access to specific topics
Access to multiple integrations
Get access to integrations with Intercom, Zapier, Discord, Segment, etc...
Post moderation
You will have to approve all posts before they are publically visible
Custom statuses
Create custom statuses to further organize your ideas and keep track of their progress
100+ other features
Custom domains, email white-labeling, priority support for all plans, API, vote on behalf, etc...
Outstanding customer support
You talk to the founders of Featurebase directly. If you have any questions about Featurebase, need help, or really need a new feature, you can reach out any time via our live chat. Our average response time is 2 minutes.
"Couldn't be happier and wouldn't choose anything else (and I've looked at all of the competitors). Not just a nice & super responsive UI but a killer team that makes stuff happen in literally minutes vs. weeks or months. "
Jascha Brinkmann
CTO at Sunvoy
"Absolutely fantastic alternative to pricey and bloated competitors in the market. Support is absolutely on point. Great team working on this, hungry to make it work and drive the business forward."
Craig Sartor
Co-founder and CEO at GameGlass
"Happy client for more than a year and will continue to use this for our project and features. A great piece of software that helps our community track our team's work meanwhile also adding their suggestions."
Klajdi Toci
Co-Founder at MO Chain
"Featurebase has been an invaluable tool to help me gather feedback directly from my users. I love the super simple UI of both the public board and also the admin dashboard. I can't get over how easy it is to get up and running and the customer service can't be beaten!"
Perry Raskin
Founder of BuyerDash
"It's awesome to be able to see such an intuitive application that suits our needs perfectly. We started using Featurebase for Tokun because we wanted to have a platform that can easily show to our customers what we're working on, as well as give them the freedom to suggest features and vote on it. "
Ray Chiao
Founder/Project Lead at Tokun
"Featurebase is an extremely useful app that allows us to gather and keep track of suggestions from our game's community in an organized fashion. From a game development perspective, it has everything we need, and they've also been quick to respond and implement our suggestions."
Nikolas Mueller
Developer at Curious Panda Games
Hosted securely in the EU 🇪🇺
Featurebase is hosted in Germany and we take data privacy very seriously. Under any circumstance, we do not sell your data to third parties and do not use any tracking tools.
Need more options?
We recently wrote a detailed article about the Best Nolt alternatives in 2023. If you feel that Featurebase is not the right fit for you, you can check out the other options from our recent blog post.
Here are our other top picks 👇
The simple feedback tool with feature voting for your customer feedback. Built-in the 🇪🇺.
© 2023 Featurebase. All rights reserved.